BAGNALL 0-4-0 and 0-4-2 EXCELSIOR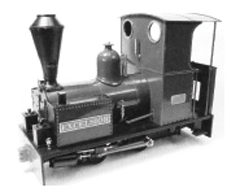 The model of the Bagnall Excelsior is available in two formats, an 0-4-0 as originally built and as an 0-4-2 as rebuilt and used firstly on the Lynton and Barnstaple and latterly at a quarry at Portland.

Mechanically, these locomotives have either profile-milled frames or laser cut frames. The boiler is refillable in steam. The gas tank has a duration of 20 minutes on the smaller 0-4-0 and 25 minutes on the 0-4-2. The valve gear is slip eccentric and the engine comes fitted with a 0.75" pressure gauge. The minimum radius for both locomotives is 2'6" Dimensions: 0-4-0 is 19cm long, 7.5cm wide and 12.5cm high, having a mass of 1.25kg; the 0-4-2 is 23cm long, same height and width and mass 1.35kg.

---
Prices (2009) 0-4-0 £850, 0-4-2 £900. If you are interested, contact us and please read our Terms of Trade.
Background Bagnall 0-4-0 and 0-4-2 Excelsior
---
Photo Wrightscale The 0-4-0 Excelsior as built and supplied to the Kerry Tramway




Click Images to enlarge

Photo Wrightscale The 0-4-2 version as rebuilt for the Lynton and Barnstaple contractor. The corrugated iron cab back and cab extension were customer-requested extras