KERR STUART 0-4-0 WREN CLASS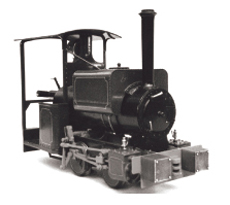 The Wrightscale Wren
We have been building this model for the last 20 years. It remains the smallest locomotive available commercially in this scale. It is only available to run on 32mm (0 gauge) track. Do not be put off by its small size (length 17cm, width 7cm, height 13.8cm.) It has full working valve gear, reversible from the cab. It is very powerful and will happily negotiate radii down to 2 feet. The duration of the locomotive's gas supply is about 20 minutes (extended gas filler supplied.) The boiler can be refilled while the engine is in steam using a syringe (supplied.) The boiler is fitted with a ½ " pressure gauge. The locomotive can be finished in a wide range of colours and is supplied with Kerr Stuart works plates. Each engine is signed and numbered and supplied in a durable plastic case. The construction of the locomotive is in multi-layer nickel silver etch, lost wax brass castings, the boiler is silver-soldered copper, The boiler is tested to 120 p.s.i. and the safety valve is set to 60 p.s.i. The gas tank is silver soldered brass. It has been designed to be fuelled with propane-butane mix and is appropriately pressure tested.
Background on Kerr Stuart 0-4-0 Wren Class

---
Price: Please read our terms of trade. The price you pay is fixed at the time that the batch is put into production. The last batch, 2013, was priced £1390 excluding delivery. From time to time, Wrightscale offer machined kits for the Wren. These can be assembled with a minimum of drilling, tapping and soldering. The boiler and gas firing system is complete and finished. If you are interested in a kit, contact us. The saving is typically 25% compared to the ready to run model.
---
Standard Wren built by a customer Photo with permission.

Standard Wren built by
customer Photo with permission.

Wren model built by Wrightscale

Click Image to enlarge