BALDWIN 4-6-0 GVT & WD TYPE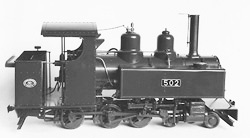 We have built models of these locomotives since 1994. These are working near-museum quality models of a significant locomotive prototype. See the background page.
These models are built round laser-cut mainframes. The motion work is to scale and is fully working, ie it can be notched up, Walschaerts valve gear. The cylinders and saddle are bronze investment castings that follow the prototype. The motion plate likewise is a fully detailed lost wax casting following the prototype. The plate-work is all etched in two or three layers of 0.5mm nickel silver. The boiler is correctly clad. (The artwork for this etching was designed by the renowned David Sharp of MOK.)
The gas tank is built into the near-side water tank, fillable through the water hatch and has a duration of up to 45 minutes. The opposite side tank contains the displacement lubricator, again filled from the water hatch. The design of the working parts in the cab is kept as neat and discreet as possible. The boiler is refillable in steam and has a water gauge fitted.

Background Baldwin 4-6-0 GVT and WD Type

---
The locomotive will negotiate 4'6" minimum radius curves. Batches of this locomotive will be produced during the next four years to mark the centenary of the Great War. Each locomotive will carry a different running number and works plate to give the owner the chance of owning a very special model.




Photo Wrightscale Welsh Highland Baldwin
---
When last produced in 2010, the Price was £2450. Please read our terms of trade and contact us if you are interested. Length 31.5cm, width 11cm, height 16cm, mass 3kg.