KERR STUART TATTOO CLASS 0-4-2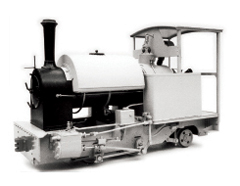 We still manufacture two variants of outside framed Tattoo class engines. Both are illustrated on this page. The type illustrated adjacent has a very basic cab and is typical of a Contractor's or export model. The other type illustrated below has a traditional cab and is typical of the many Tattoo Class locomotives that ran in the UK. It provides an excellent model of Stanhope and the new build Tattoos running in the UK today. These engines have a duration of around 30 minutes and are gas fired.

---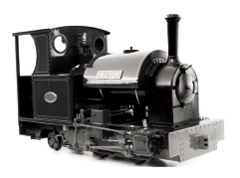 A Tattoo Class with Contractor's Cab has the following dimensions: Length 22.5cm, Width 9.2cm and Height 14.5cm. The minimum radius is 3 foot. The Cab Variant Tattoo has the same details as above but the rear cab sheet has a round coal hole in it. Delivery of a couple of these engines would be this year (2010).

---
Price of Contractor's Cab Tattoo &pound INSERT PRICE
Price of Cab Variant Tattoo &pound INSERT PRICE