KERR STUART TATTOO CLASS 0-4-2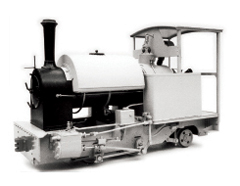 There are two variants of the outside-framed Tattoo Class locomotive. One type has a very basic open cab (seen left) and is typical of a contractor's or export model. The other type has a traditional cab with a half back-sheet and is typical of many of the Tattoo Class sold in this country(image below). It produces an excellent facsimile of Stanhope and an accurate model of the newly built Stanhope replica. These engines are typical Wrightscale products. They are available for 32mm gauge and it is possible with the omission of interior frame detail to build to special order 45mm gauge.

---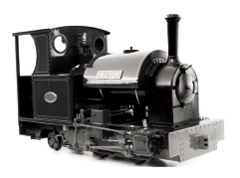 They will negotiate 3' radii. They are gas-fired with a duration of about 25 minutes. They have a water-filling system, blow-down water-level gauge, cab-controlled reversing gear and are equipped with a half-inch pressure gauge.
The locomotives are supplied painted. The standard finish is black chassis, boiler and smoke-box, red buffer beams fitted with a pocket coupler socket as shown on both photos. The tank and cab are any colour you wish. The locomotives are supplied with an appropriate set of Kerr Stuart work-plates.
Background on Kerr Stuart 0-4-2 Tattoo Class

---
Price: Please read our terms of trade. The price you pay is fixed at the time that the batch is put into production.
Price (2014) is £1670.00
Price (2014) is £1700.

Click Images to enlarge

This is the contractor's cab version, length 22.5cm, width 9.2cm, height 14.5cm, minimum radius 3'

This is the cab variant Tattoo. Details are as above. The rear cab sheet has a round coal hole in it. Please read our terms of trade.