KERR STUART 0-4-2 CORRIS RAILWAY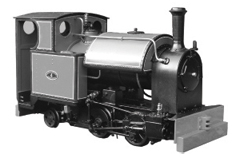 This locomotive is an accurate model of the locomotive which Kerr Stuart supplied to the 2'3" gauge Corris Railway in 1920. It is mechanically identical to our Tattoo class locomotives but is much narrower and less tall. The most noticeable difference is that it is inside framed.
---
The model is gas fired and has a duration of about 25 minutes. It is reversible from the cab. It is fitted with a blow-down water-level valve, water filling system and pressure gauge. It will negotiate 3' radius curves. Length 22.5cm, width 8.5cm, height 12.8cm, mass 2.2kg.

Price: Please read our terms of trade. The price you pay is fixed at the time that the batch is put into production.
The price of the current batch (note our terms of trade) is £1760. Contact us if you are interested in this product.
Background on Kerr Stuart 0-4-2 Corris
---
Click Image to enlarge

Photos courtesy Derek Munday Lightline, lining Lightline