ABOUT OUR BUSINESS
Wrightscale is a niche manufacturer of garden railway rolling stock, inspired by 2' and 60cm equipment developed at the time of the Great War 1914-18.
We have made 16mm to the foot scale live steam gas-fired model locomotives, and also stock and accessories since 1982. In this time, we have built something over 300 locomotives and supplied several hundred rolling stock kits. From the beginning, these models have shared the following features:

They are fine-scale models, scaled from works drawings
They are designed, prototyped and batch-built by one person
All our products are supported. You might have to wait but you will never be told to go elsewhere should you have a problem.
All our models adopt the principle of 'best material for purpose' By careful choice of materials our models combine fidelity with durability.


---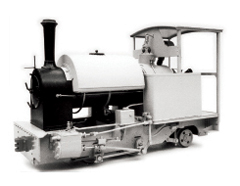 The business grew out of a longstanding interest in narrow gauge railways, especially those related to military transport. What was the preserve of a small group of model makers 40 to 50 years ago, has matured into a well-supported hobby with several specialist associations and manufacturers. If you have read this far, we would suggest that joining one of these associations is well worth-while: www.16mm.org.uk. It will introduce you to local fellow enthusiasts who will share your interest. The following two URLS will let you experience outdoor running of trains headed by model steam locomotives www.gardenrailwayclub.com/home .... gardenrails.myfreeforum.org/ . You will have the benefit of the opinions of others as to the quality of the products available. Given the generous nature of many, there will be opportunities to 'try before you